Learn how to write a professional profile.
Read the exercise below and complete the sentence by doing the test (you will receive the result via email), good luck!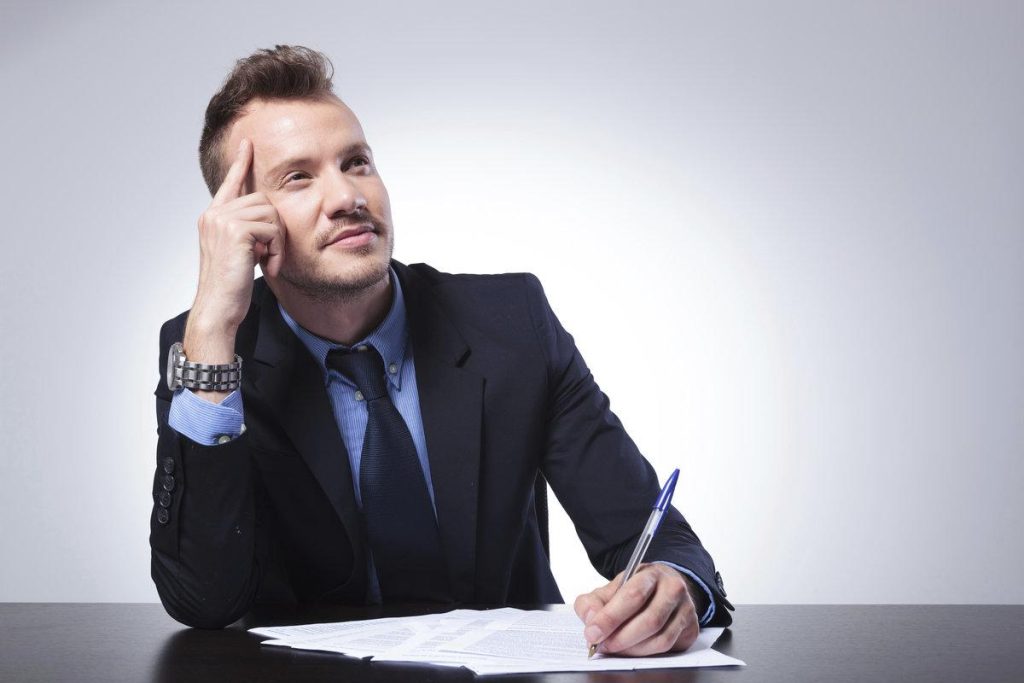 David Beddingfield
Digital Marketing Manager
______________________________
Summary
Over the past six years I have held various roles in the field of digital marketing and communication and currently lead a small team in the Fast-Moving Consumer Goods (FMCG) sector. I have a proven track record of planning and implementing successful digital marketing campaigns across a range of channels.
______________________________
Experience
Digital Marketing Manager
Krunch Ltd
Jan 2017 – Present
My role involves strategic focus on all areas of digital marketing within the company and working closely with the main marketing and communications teams. I design and lead all our digital marketing campaigns.
Digital Marketing Executive
Krunch Ltd
June 2014 – Dec 2016
I was responsible for overall social media strategy. I worked on many campaigns to drive engagement with the customers of our breakfast cereals and bars to build brand loyalty. I also led on three key product launches.
Digital Marketing Assistant
Food2Grab Ltd
Sept 2013 – May 2014
In this role I developed my existing knowledge and skills in the fields of social media and consumer goods. I supported the design of multi-channel marketing campaigns to promote brand awareness of our healthy snack range.
Tips
Your online profile needs to be concise, engaging and convincing.
State a clear title/role under your name.
Your summary should be in short paragraphs.
Think about who you want to read your profile and write in an appropriate style for them.
Add links to examples of your work if you have them.
Check it carefully and get feedback from a friend or colleague.
Listen to Julie's study abroad experience, an American student studying in Galway, Ireland. Watch the video and do the test. You will receive your result via email. Good luck!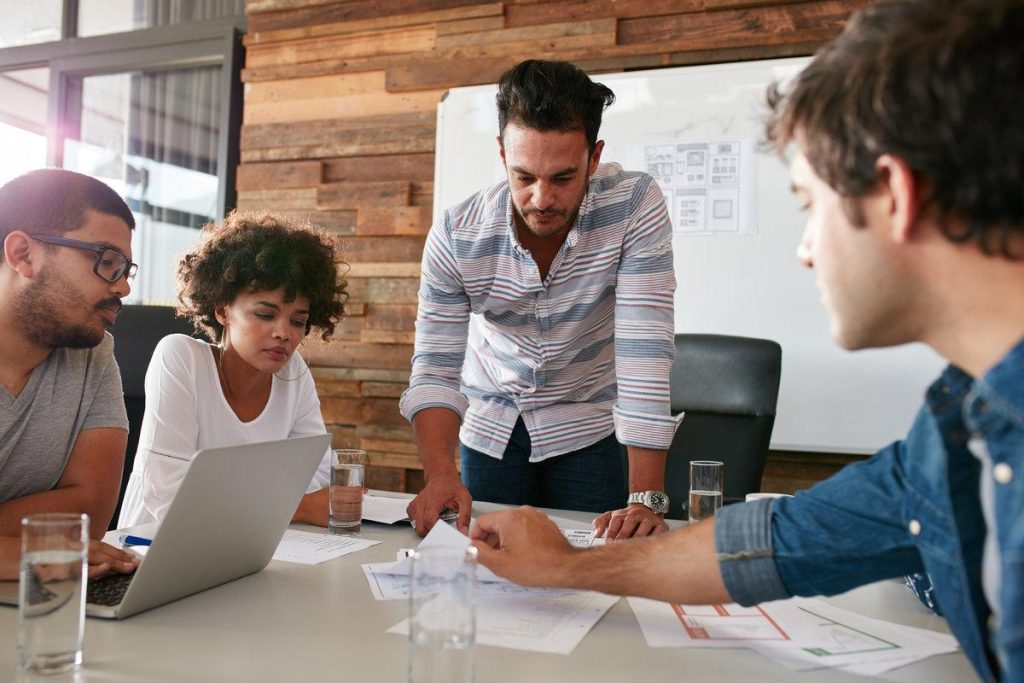 1. Read an email asking for help from another department to practise and improve your reading skills.
| | |
| --- | --- |
| TO: | James Forrester |
| DATE | 6 November |
| SUBJECT | Possible help with product design |
Dear James,
As you know, we have been working on the new perfume that we are launching in April and we are unsure about some of the packaging details. We have seen some of your creative work in the sales department and we think you have a very good eye for detail.
Do you have some time before close of business this Friday to sit down with us and talk through some of our designs? We would truly appreciate your advice on this. It shouldn't take longer than two hours of your time and we would be happy to clear it with Patricia, your department head, if necessary.
Best regards,
Sarah Ford
Head of Department
Product Design
2. Do your test below (you will receive the result via email)
A phone call from a customer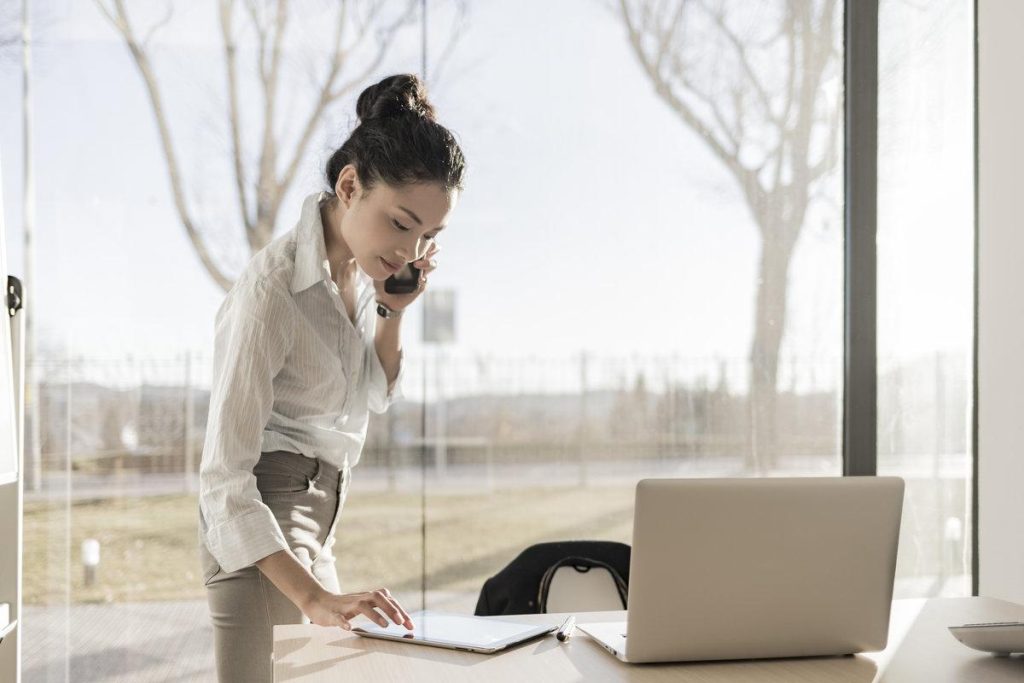 1. Listen to the phone call from a customer to practise and improve your listening skills.
2. Download the transcript
3. Do your test below. You will receive the result via email.
Hey! Would you like to find out your English Level?
There are 6 levels, see below:
A0/A1 English (Beginner/Elementary)
A2 English (Pre Intermediate)
B1 English (Intermediate)
B2 English (Upper Intermediate)
C1 English (Advanced)
C2 English (Proficient)
Find out your English level today! You will receive an email with the result!
Click below to visit our Language Courses and Study & Work Package abroad.
We have prepared the TOP 20 INTERVIEW QUESTIONS and great tips to prepare for a job interview in Ireland or UK.
To professionally write your CV and be ready for your job interview we have the perfect service for you, our Job Plan.
What do we do?
We translate / review your CV
We prepare a cover letter
We send you a document with a list of agencies, job portals and other great tips to find a job
We organise two 30 minutes sessions (or 1 hour session) to practice for your job interview.
Note: we do not find you a job, our goal is to help you prepare for your job interview and increase your chances to be hired.

We all know that a study or work abroad experience is very enriching but above all life changing. On top of all the new skills you will develop while abroad we really believe that every experience abroad makes you stronger as a person and offers you plenty of opportunities to grow professionally and personally.
Your Certificate
All our students and young professionals who carry out a work experience either in our company EazyCity or in one of our partner host companies will receive an Internship Abroad Certificate to certify their work experience.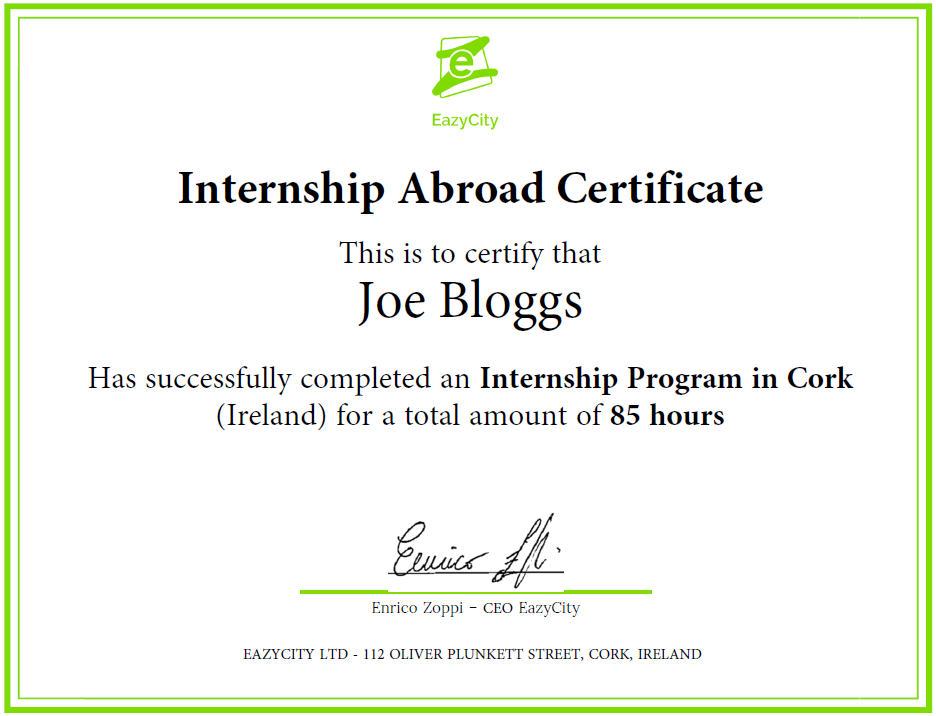 Living for a period abroad should not be all about the internship or the language course but about the experience we live. At the end of your Study or Work Experience we will issue your certificate and send it to you via email.
LinkedIn Certificate for your profile - Increase your chances to find a job
We strongly encourage to add your Internship Abroad Certificate to your LinkedIn profile and share the Certificate we send you at the end of your experience. If you don't have a LinkedIn profile we highly recommend to create one as most companies look for you on LinkedIn even before the interview. See below what our Certificate looks like on your LinkedIn profile. For more information or to receive your Certificate please contact our team: [email protected]

It is very important to update your LinkedIn profile highlighting your work experience abroad. Companies really appreciate potential hires to have an experience abroad and you may have a better chance to be contacted by a company.
Add your Certificate on your LinkedIn profile, watch this video where we show you how to do it
Contact our team for more information or to receive your Certificate: [email protected]
What are the emotions we experience when we go abroad to study? When I travelled to Ireland to study English in my early 20s, for sure I experienced curiosity, excitement, anxiety, fear, happiness, freedom.
I started feeling alive the moment I planed the trip to Dublin. Now that I am no longer a student and I co founded EazyCity I often find myself thinking about all the students and young professionals we welcome on a weekly basis, their emotions and what it actually means to them going abroad to study for the first time.
After almost 20 years in the Language Travel sector I can easily say that studying abroad encourages the development of:
Self-esteem
Language and communication skills
Sense of adaptability
Human interactions
Emotional Intelligence
New skills
To confirm this, however, is a scientific research, which compared the scores relating to the self-esteem of some sixteen-year-olds who left for a year of study abroad, with those of their peers who had not left. Upon their return, the students showed much higher levels of self-esteem than those of their peers. Research Source
As a business we feel very fortunate, we believe that giving back is often more important than receiving so from this year 2022 onwards we launched the "Felice Veneziani Scholarship" for 5 students which will allow them to study English and do a work experience for a month in Ireland. If you wish to apply for 2023 EazyCity Scholarship click on the link above but before we invite you to watch the video interview of the 2022 Scholarship winners.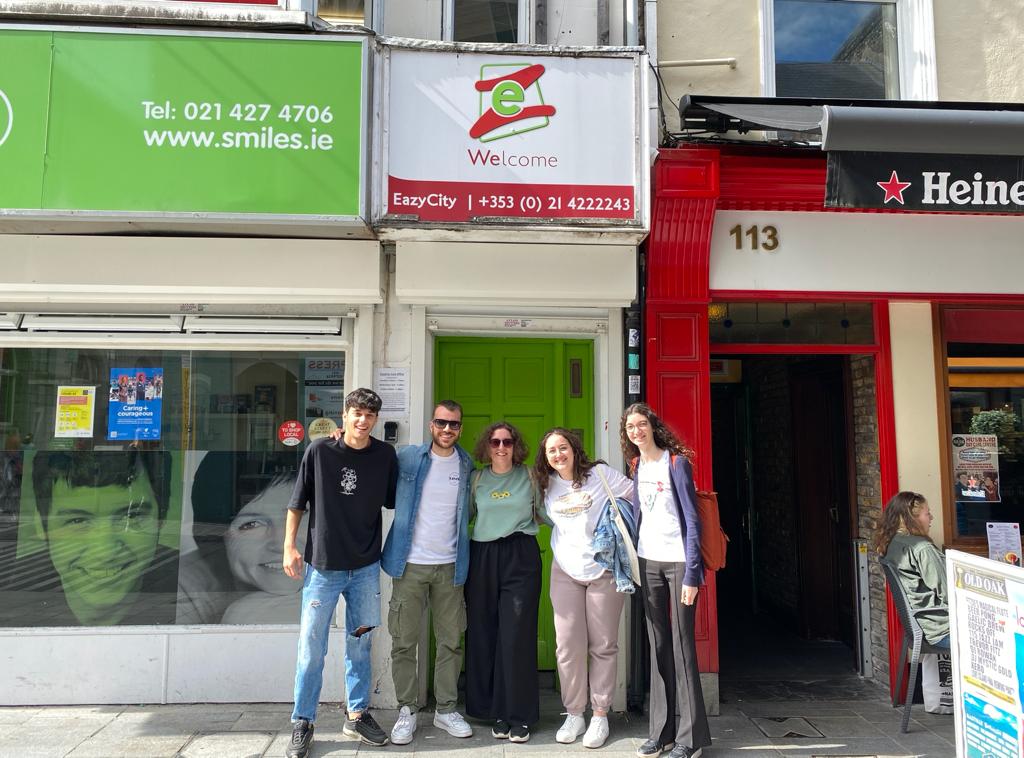 We asked the students who won the Felice Veneziani Scholarship in 2022 to share their study abroad experience from an emotional point of view. The interview is in Italian but you can visit our YouTube channel to watch other interviews here
written by Enrico Zoppi - Co Founder EazyCity
Note: Felice Veneziani is the grandfather of Enrico Zoppi. I wanted to create a scholarship in honour of my grandfather to remember this fundamental figure in my personal and professional path.
In the past 12 months we have experienced unprecedented increases in energy prices and with more increases set to be announced in the coming weeks. In Ireland we have seen on average an 87% increase in the price of gas & electricity since 2021.
Our aim at EazyCity is to share with you some good tips for responsible energy consumption and avoid the waste of energy while staying in our properties.
How to save electricity?
A number of basic actions can be taken to reduce electricity costs by making the best use of domestic appliances, electronic devices and the heating and lighting system in the home.
Here are some suggestions to avoid unnecessary waste of energy.
FRIDGE
Be sure to organize the storage in the refrigerator so that the cold is distributed correctly.
Check for leaks.
Do not put hot dishes in the fridge or freezer. It is better to wait and let them cool out naturally.
Do not leave the door open for too long.
Keep the fridge temperature at medium temperature, not too high.
WASHING MACHINE
Run the washing machine on a cooler cycle, 30 degrees is fine for most clothing.
Put the washing machine on during off-peak hours.
Use the washing machine when you have a full load.
Avoid pre-washes
Do your laundry once a week
DRYER
Avoid using it as much as possible.
When you use it, put your clothes in for the minimum amount of time possible.
OTHER KITCHEN APPLIANCES
Use the microwave to heat food but not to defrost it. You can let frozen food defrost in the fridge.
If you need to monitor the cooking, avoid opening the oven so that it does not lose heat.
Remember to clean the oven frequently.
When using the kettle, only boil as much water as you need.
ELECTRONIC DEVICES (cell phones, laptops, tablets, etc.)
Pull the plug on the laptops and other appliances when they are fully charged.
Charge your devices during off-peak times.
Shut down and unplug your devices when they are not in use.
HOME LIGHTING
Turn off the lights when you are leaving the room.
Choose daylight whenever is possible.
HEATING SYSTEM AND SHOWER
Ensure that the heating is turned off when leaving the house.
Seal your windows and doors and close your curtains at night to retain heat.
Please take showers under 5 minutes
Contact us if you need more information [email protected] Tel. 00353214222243
Check out the estimated cost for using these appliances: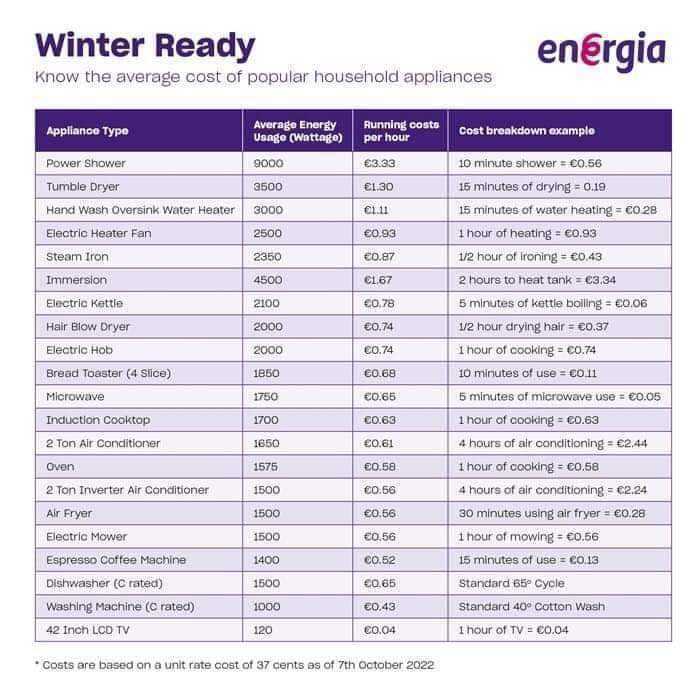 Globally today, there are almost 800 million people who have little or no access to education. Adults and children who do not have basic literary skills. Back in 1820, the world's population from secondary school age onward had a literacy rate of only 12%, according to The World Bank.
In 1900, it exceeded 20%. From the 1950s on, world literacy began to improve significantly, hitting 42% in 1960 and 70% in 1983. Today, the global literacy rate stands at 87%, or almost nine out of ten people worldwide.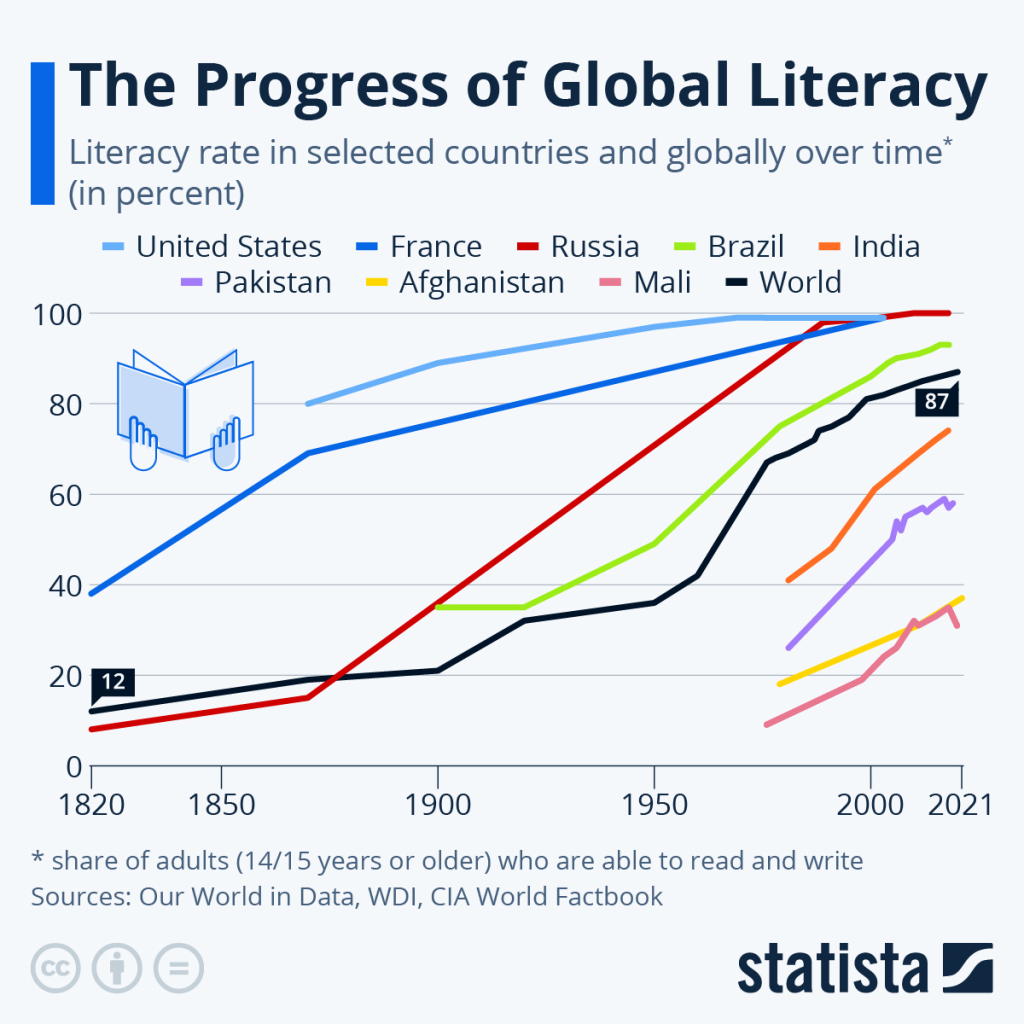 Here at EazyCity we believe that education is a basic human right for all and that everyone should have access to. In this big world of ours we also want to do our small part. In the last 18 years we have been promoting study language programs and professional internships to thousands of young European and US students who wish to improve their language skills as well as develop important soft skills, useful for their personal and professional growth.
We care about the world we live in and we would like to share with you these important organisations we find inspiring and motivating: