We have been waiting for this moment for a long time and now we are so happy to start promoting face to face English Classes!!!
We are delighted to offer 4 weeks of English Course in Cork for the price of 3 weeks! No school booking fee.
Please contact us: [email protected] or contact us via chat 😉
We are delighted to offer all clients, who wish to travel to Ireland for a life changing experience, a Free Quarantine Package when booking a Study Package (course and accommodation for 4 weeks or longer) in self-catering accommodation. This offer is valid for any bookings made in June, July and August, with a start date any time before 15th August 2021.
What's included in the EazyCity Free Quarantine Package:
1-week self-catering accommodation free in Cork (Ireland)
PCR test 5 days after arrival - allowing a shorter quarantine period so you can move freely on Day 6 of arrival upon return of a negative test result (Valued at €89 per test)
1-week Online English Course free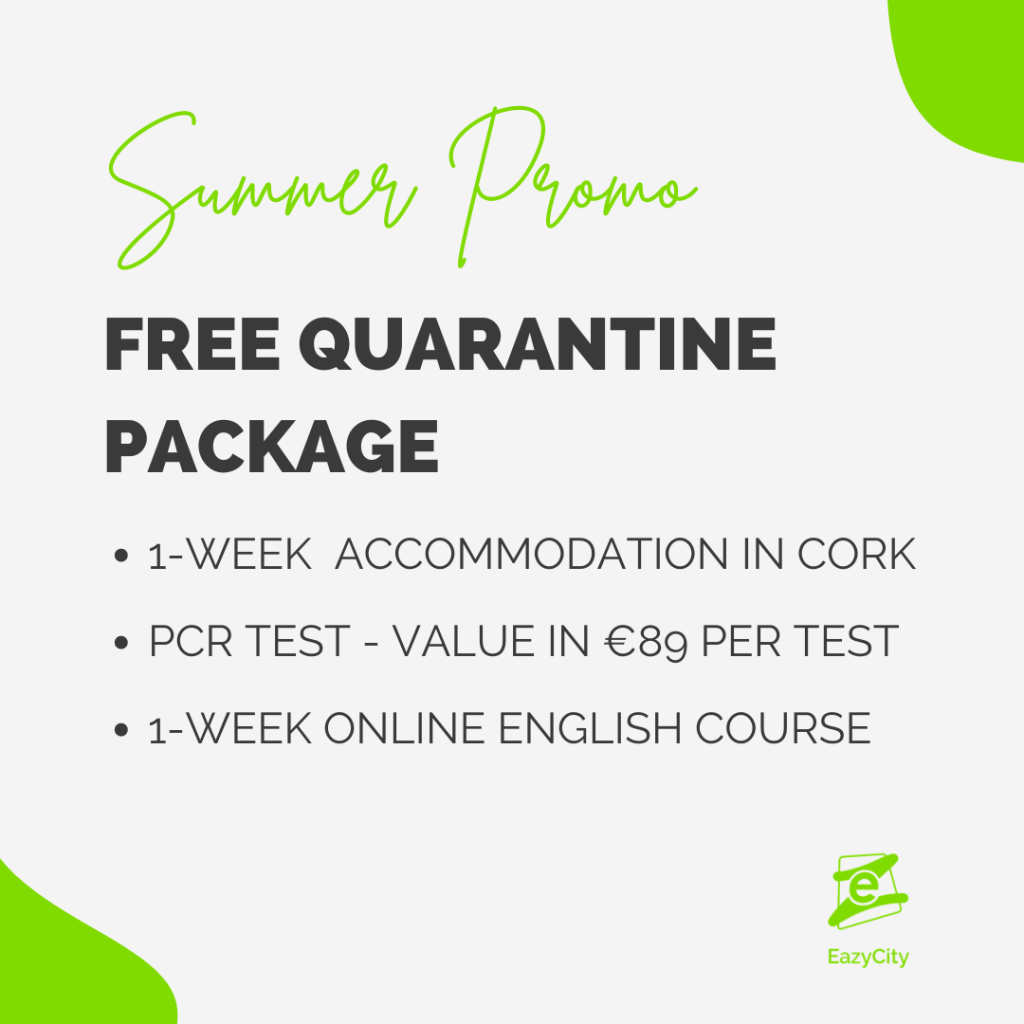 All free of charge! This offer is open to all people travelling to Ireland.

If you are thinking to travel abroad to study English this Summer, get in touch with our team! We will provide you with all the information on the Study Packages available as well as how to avail of this offer.
Note: We recommend to people travelling to Ireland to check the restrictions and travel advice in their home country and in Ireland before departure.
We are very excited to present these special Remote Internships Programs with companies in Ireland, Britain, Spain and Italy. The best of a professional experience while working from home! This is a great investment for your education and career.
Our Remote Internships cover several fields from Marketing, Sales or Graphic Design, to IT and Customer Service.
Check out on our online store the Remote Internship Program in each city for full details. To launch this program we are offering a 10% discount if you book before August 31st.
More questions? Check out our article with the frequent asked questions and additional details.
Contact our team via email [email protected] or phone: +353 21 206 6043 or WhatsApp: +353 871 640 835.
Ready? Go for it!